Here is a question I get asked a lot; "what'cha got to help loose weight?"
There are two Shawnee Moon products that I like to suggest for people to try to help maintain healthy weight. One is KAP Off, my own original formula, and one is Tropical Trim, which is one of Victoria Fortner's original formulas.
KAP Off
KAP Off is a very simple formula containing only Kelp, Alfalfa and Plantain. These herbs have properties that support healthy body weight over long term use. This is by no means a quick fix, but is a supplement that should be taken for 3 months and longer to begin benefiting the effects on balancing weight. In the mean time, it is packed with nutrients as these green power plants are packed with vitamins and trace minerals that will support overall wellness, in addition to promoting balanced, healthy, long-term weight. Read more here. $11.50 1oz
Tropical Trim
Tropical Trim is a formula that I never saw on the retail shelf of Shawnee Moon, but found Victoria's notes for to "help suppress appetite". We did a client study with before I first launched the product in 2016, read the results here. This product is best taken about 30 mins before each meal, it has naturally occurring caffeine from the yerba mate herb it contains. $11.50 1oz
Young Living Wellness Weight Management Products
Young Living has an awesome line of weight management tools! They are available individually, but work best together. There are kit options that give you the best value for your investment. Maintaining a healthy weight is all about using the right tools. YL's extensive, proven Slique line offers the right solution for your weight management needs. To order any of the Young Living Weight Management Products CLICK HERE and enter my member number (( 2442022 )) when choosing your retail or wholesale price option.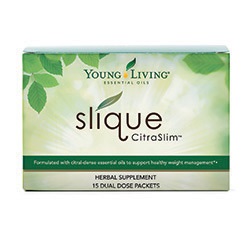 Features a two-capsule formulation in a convenient dual-serving daily sachet:
Once-Daily Liquid Capsule
The liquid capsule delivers pomegranate seed oil, Lemongrass, Lemon Myrtle, and Idaho Balsam Fir essential oils. This blend is high in citral, which is a constituent that may increase metabolic activity.*
Powder Capsules
Three power-packed powder capsules contain a proprietary citrus extract blend, cinnamon powder, bitter orange extract, fenugreek seed, ocotea leaf extract, and a customized blend of enzymes and four essential oils: Ocotea, Cassia, Spearmint, and Fennel. Retail: $59.21 USD
Wholesale: $45.00 USD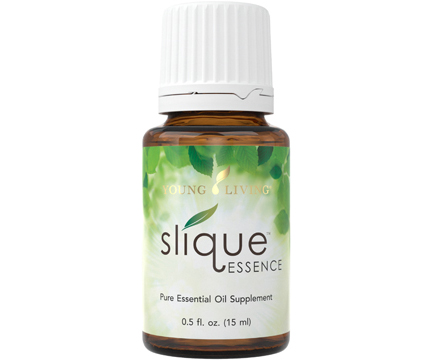 Slique Essence combines grapefruit, tangerine, lemon, spearmint, and ocotea with stevia extract in a unique blend that supports healthy weight management goals. These ingredients work together to help control hunger*, especially when used in conjunction with Slique Tea or the Slique Kit. The pleasant citrus combination of grapefruit, tangerine, and lemon essential oils adds a flavorful and uplifting element to any day with the added support of spearmint that may help with digestion.* Ocotea essential oil adds an irresistible, cinnamon-like aroma to help control hunger, while stevia adds an all-natural sweetener that provides a pleasant taste with no added calories. 15 ml (#4586) Retail: $34.21 USD Wholesale: $26.00 USD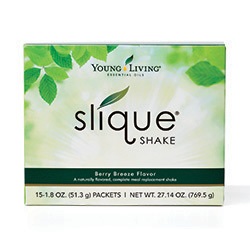 Slique® Shake is a complete meal replacement shake that provides quick, satisfying, and delicious nutrition. Formulated with Slique Essence Essential Oil Blend, this shake may support healthy weight management when combined with regular exercise and a sensible diet.* In a convenient single-serving size packet, it's easy to slip into a purse or pocket for healthy eating on the go. Retail: $65.46 USD Wholesale: $49.75 USD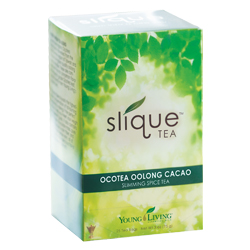 Slique Tea is an exotic drink from Young Living that has been formulated with natural ingredients to help support individual weight goals.* This blend is rich in flavonoids, a dietary compound generally associated with helping maintain certain normal, healthy body functions. It also contains polyphenols, which may be useful as part of a guilt-free weight-management regimen when combined with a healthy diet and physical activity. This unique blend is enhanced with 100% pure therapeutic grade Frankincense powder. 25 ct (#4560) Retail: $25.99 USD Wholesale: $19.75 USD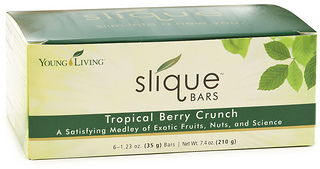 Slique Bars dual-targeted satiety approach and medley of exotic fruits, nuts, and science creates the perfect functional, nutritious snack to help you feel fuller, longer. Also available: Chocolate Coated Slique Bars Retail: $10.20 USD Wholesale: $7.75 USD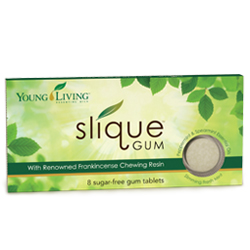 Ancient travelers throughout the Middle East used raw frankincense resin for its nutritional content and ability to help control hunger. Slique™ Gum offers those same benefits in a modern delivery system that helps control food cravings and improve oral health. 8ct Retail: $10.20 USD Wholesale: $7.75 USD
Slique Kits
Chose the tools that are best for you at the best prices!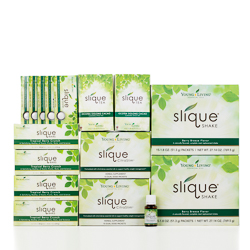 Slique Complete
Retail:
$
450.00
USD
Wholesale:
$
342.00
USD
The ultimate collection for healthy weight management and optimal nutritional support, Slique® Complete is the best way to meet your weight-loss goals when combined with a healthy diet and increased exercise! This pack combines the benefits of the Slique® Shake meal replacement with the fat-burning benefits of Slique® CitraSlim™.
Slique Complete includes:
(2) Slique® Shake (30-Day Supply)
(2) Slique Tea (30-Day Supply)
(2) Slique CitraSlim™ (30-Day Supply)
(5) Slique Gum, 8 ct.
(1) Slique Essence
(4) Slique Bars, 6 pk.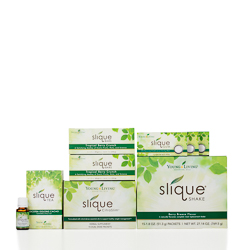 Slique Advanced
Retail:
$
236.18
USD
Wholesale:
$
179.50
USD
Put your weight-management goals on the fast track with Slique® Advanced! Including the fat-burning benefits of Slique® CitraSlim™, this kit will help you experience increased energy throughout your weight-loss journey.
Slique Advanced includes:
(1) Slique Tea (15-Day Supply)
(1) Slique CitraSlim (15-Day Supply)
(1) Slique Shake (15-Day Supply)
(3) Slique Gum, 8 ct.
(1) Slique Essence
(2) Slique Bars, 6 pk.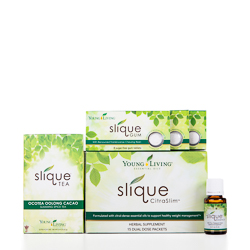 Slique Assist
Retail:
$
135.20
USD
Wholesale:
$
102.75
USD
For a little help slimming into the new you, Slique® Assist includes the Slique Maintain collection, plus delicious Slique Tea and Slique Gum.
Slique Assist includes:
(1) Slique Tea (15-Day Supply)
(3) Slique Gum, 8 ct.
(1) 15-ml Slique Essence
(1) Slique CitraSlim (15-Day Supply)
Slique Maintain
Retail:
$
84.21
USD
Wholesale:
$
64.00
USD
With a simple, effective approach, Slique® Maintain partners two of the most popular Slique products, Slique CitraSlim and Slique Essence, to help you maintain a healthy body weight and support dietary habits.*
Slique Maintain includes:
(1) Slique CitraSlim (15-Day Supply)
(1) 15-ml Slique Essence
Don't Forget!
All these tools are supposed to be used along side a balanced, active, healthy lifestyle! Not where you want to be yet, health-wise? Use these products to help get you there. Check out Young Living's "Slique in 60" program for a no-risk guarantee!
Thanks for reading! Hope this was helpful! Let me know if you have any questions!
Blessings in Christ – Kerry